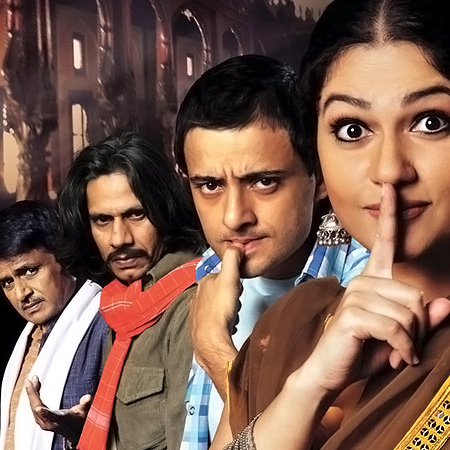 Rahat Kazmi's
Dekh Bhai Dekh
(apparently re-named
Dekh Re Dekh
at some point; my DVD carried the older name) is a refreshing little film: it hearkens to the cinema of old, albeit in the streamlined garb of the contemporary "little" film. Refreshing because this look backward isn't by way of ironic distance or homage, and nor does it fall prey to the stale rehashing of older Bollywood tropes that is the hallmark of B-grade cinema. That is, with respect to the former, Kazmi's film isn't set in a small-town in U.P. because he wants to make a point about crime and violence in the heartland (the usual vehicle for representations of U.P. and Bihar in contemporary Hindi cinema), nor is he trying to depict a world impossibly remote from the (imagined) "us" in cities like Mumbai, Delhi, or London. Rather, his film just happens to be set in U.P., and does not purport to stage its setting. Or its Bollywood genealogy: I don't remember the last time I saw a song in praise of Radha and Krishna that was so unobtrusively part of a Hindi film (not surprising, given the industry's collective preference for Ferraris with crowds of skimpily clad European women serving as eye candy). And this one ("Kanha De Do Sharan") is picturized on that old masala staple rebooted, namely the protagonists -- Babli (Gracy Singh), Shyam (Siddharth Koirala), Charan (Vijay Raaz), and Yadav (Raghuvir Yadav), all in need of money, and acting on Babli's half-baked plan to steal a valuable idol from her own in-laws -- in disguise, singing a song to distract the audience within the film, in order to set the stage for a heist (as for what happens after the heist, well, there's a reason the film is billed as a black comedy). For such un-showy naturalness vis-a-vis his cinematic inheritance alone, Kazmi's film deserves to be seen.
Luckily, although the film has its limitations (most notably that the narrative could have been more gripping), there is more to enjoy here. Such as the earthy dialogs Mushahid Husain Pasha has written for Vijay Raaz's Charan, a smart aleck thief and generally lovable lowlife. It is rare that one has the pleasure of seeing Raaz on screen, and Pasha does not squander the opportunity -- Raaz deploys a Bollywoodized version of the
bhaiyya
-speak and drawl to great effect here (I would have loved to see some of the earthier dialogs amidst an appreciative audience in a cinema hall). The visuals are solid, but no more (however, Kazmi's and cinematographer Akash Deep's picturization of the heist song suggests an ability to put a bigger budget to good use). So too the music by Shadab Bhartiya, Abuzar, and Nayab Raja (Raaga.com adds Prem Anand to the list), although it surprises at points, especially when Raahat Fateh Ali Khan and Rajab Ali begin crooning "Sapne Bhaye Hain". The other good song could have been better: "Ladee re Ladee Najariya" is an utterly conventional "dancing girl" number, albeit elevated by the fact that Richa Sharma is singing it.
Dekh Bhai Dekh
came and went with barely a ripple, and deserved better. One hopes it gets a wider audience courtesy of satellite/cable TV re-runs, and that Kazmi and Pasha get more opportunities to make their mark. And for God's sake, someone get Vijay Raaz more roles!